Supports up to 2,000 mAh of quick charge at large capacity
Sensational black gold, rose gold color release
Ensure durability and stability by using aluminum housing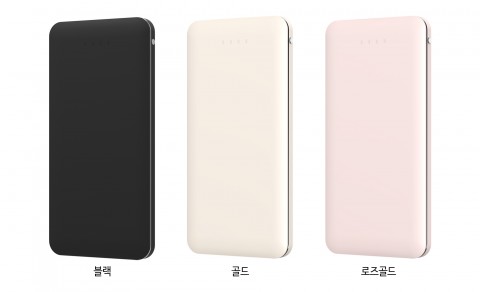 Seoul-(News Wire) January 09, 2018 - Design Co., Ltd. (representative Sung-won Jung), famous for its elephant auxiliary battery, announced the new model U-Pack triple series auxiliary battery 'KP-V200QU3' on 15th.
The elephant auxiliary battery U pack triple boasts a capacity of 20,000 mAh, which suits the name. It is slim and simpler than the existing 2,000 mAh auxiliary battery, and it is a product faithful to the basic of the elephant auxiliary battery only.
The U-Pack Triple also uses aluminum housings to ensure ruggedness and stability.
◇ Product Specifications and Main Functions
The new elephant auxiliary battery supports three types of inputs: MICRO USB, LIGHTNING, and TYPE-C, which do not require any gender for charging.
Supports input QC 3.0 to charge a high capacity battery of 20,000 mAh. The best is 18W. Output port supports USB-A, 1 port is QC3.0 compliant port and 2 ports are 2A port.
It is also compatible with QUALCOMM Quick charge 2.0 / 3.0 and has 4 LEDs for step-by-step charging.
A separate ON / OFF switch is built in, which allows the user to charge when he wants, and also has an adaptive charge current control system.
Despite the capacity of 20,000 mAh, it boasts a 92% charge / discharge efficiency and has built-in 3-step protection circuit to ensure user's safety.
"U-Pack Triple has become an opportunity to get closer to customers by producing the large capacity secondary battery that consumers want,
I am satisfied with the simplicity and slimness of only the elephant auxiliary battery "
"First of all, safety is our top priority and we are working on production."
Meanwhile, design continues to respond to the smooth communication with consumers and launches new products,
We are launching new products not only for customers' needs (NEEDS) but also for the needs of consumers.
Design Overview
Since its establishment in 2012, Design Co., Ltd. has developed into a leading manufacturer of smart device accessories in Korea.
Currently, we are engaged in the design, development and sales of smartphone accessories such as auxiliary batteries, household and car chargers, and Bluetooth speakers.
Design Co., Ltd. established a research institute in 2014 to improve technology and quality in response to the rapidly changing market environment.
Through this, we are growing into a company with the best technology based on the best technology.